Beyond the brochure: Takayama-Hokuriku Area Tourist Pass
For the past couple of decades now, Japan has long held a spot as one of the most popular destinations in the world for inbound tourism. Yet, you'll likely hear the same few staples that will always come up in any itinerary, such as Tokyo, Osaka, Kyoto and the like. What if you wanted to experience a different sort of holiday—one in which you'd be able to see and feel a more authentic, aged side of Japan that requires just a little bit more effort to reach than the roads most-travelled?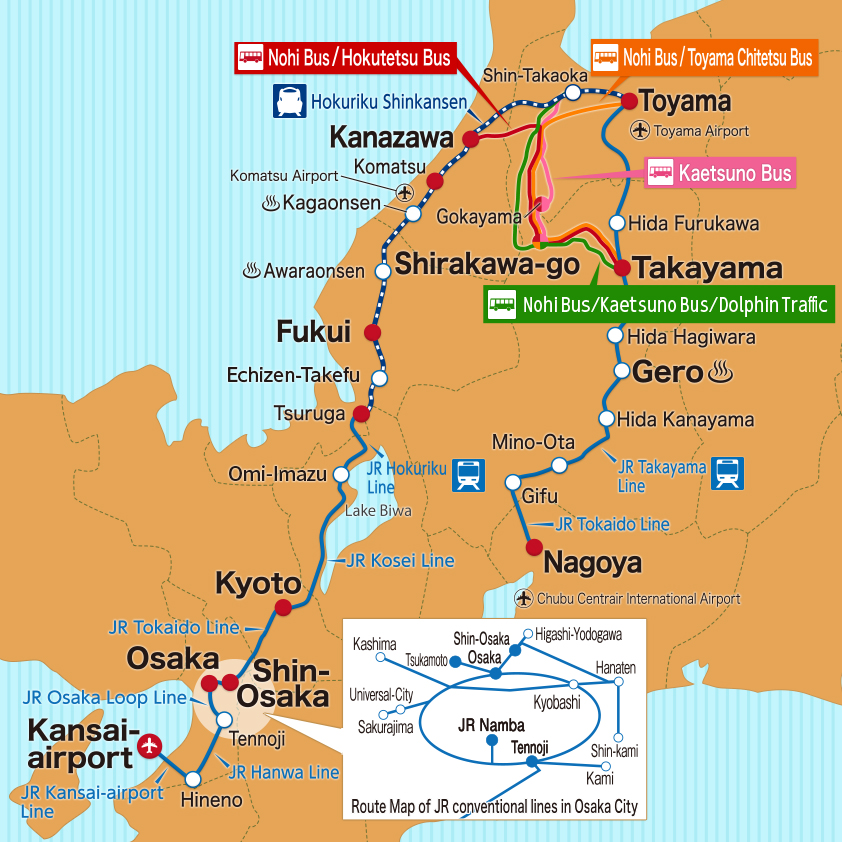 (Image credit: JR Central)
The Takayama-Hokuriku Area Tourist Pass would be able to help you achieve just that, granting you access to a bounty of hidden gems sprinkled throughout the Chubu Region (中部地方 Chūbu Chihō). This 5-day pass will help you budget and cut a clear path through a historically-significant part of Japan, one that has been cultivated from as far back as the beginning to the Edo Period (1603–1867)! So pack light and get your cameras ready, because we'll be going on an adventure you'll never forget!

Day 1: Chubu Airport/Nagoya/Gero
On top of its more modernised facade immediately after exiting the station, Gero Onsen is also home to several traditional thatched roof houses in Gassho Village. (Image credit: photoAC & Lucas Calloch)
We'll be starting the first leg of this trip from Nagoya City (名古屋市 Nagoya-shi). If you arrive in Japan via Chubu Centrair International Airport (中部国際空港 Chūbu Kokusai Kūkō), you can head on over to the Central Japan Travel Center to purchase or exchange your Takayama-Hokuriku Area Tourist Pass. Otherwise, you may do so upon arrival at Nagoya Station (名古屋駅 Nagoya-eki) at the JR Central ticket office. The first stop of our journey will be Gero Onsen (下呂温泉), easily accessible via Gero Station (下呂駅 Gero-eki) on the Takayama Main Line (高山本線 Takayama Honsen).
Gero Onsen is one of the most famous onsen towns in Japan, renowned for its water quality, picturesque setting, and proximity to several other historical hotspots of Central Japan. Much like most hot spring resorts scattered throughout the country, Gero Onsen is filled with numerous ryokan for you to stay at, each equipped with its own specialty onsen to relieve the fatigue of your journey. There is also a free-to-use rotenburo (露天風呂 open-air bath) a short walk from the station, where you can soak in your bathing suits next to the Hida River (飛騨川 Hida-gawa).

Day 2: Gero/Takayama
Escape to a side of Japan, thought lost to time, in the historical little bubble of Takayama. (Image credit: photoAC)
For our second day, we'll be exploring the old town of Takayama (高山), which is a 50-minute train ride north of Gero Onsen along the same Takayama Line from the day before. Of all the preserved historical townscapes of Japan, very few come close to truly capturing the feel of the Edo Period quite like Takayama.
Rows upon rows of immaculate wooden buildings and timber architecture can be found here in Takayama, thanks to its location in the bountiful, high-altitude woodlands of Hida and a longstanding woodworking culture. The old town east of the train station, in particular, feels plucked straight out of a samurai flick, and is a perfect escape from the city with its museums, townhouses, and morning markets.



Day 3: Takayama/Shirakawa-go
The unique houses make Shirakawa-go look like a village taken straight out of a fairytale. (Image credit: ©JNTO / Gifu Prefecture)
After one more night of sleep in the luxury of your modern hotel or ryokan, it's time for us to switch gears and shake up our accommodations a little. Return to Takayama Station, from where we'll be boarding a bus bound for Shirakawa-go (白川郷 Shirakawagō), a village nestled deep in the valleys of Gifu Prefecture (岐阜県 Gifu-ken).
Our trend of visiting places with picturesque scenery continues, as Shirakawa-go is the kind of place you'd only expect to see in an anime or a film setting. The most striking element you'd see upon entering the area would be the many triangular straw houses dotting the landscape. These buildings are known as gassho-zukuri (合掌造り) houses, as they resemble a pair of hands locked in Buddhist prayer. Built and occupied by farmers dating back to the Edo Period, many of these houses exist today as family-run lodgings where tourists may spend the night. Staying in a farmhouse like this would probably be a once-in-a-lifetime opportunity, so don't miss your chance to book one and soak in the austerity of the simple life!



Day 4: Kanazawa
A visit to the teahouse streets of Kanazawa aligns perfectly with the historical theme of our trip so far. (Image credit: photoAC)
After your hearty farmstead breakfast and perhaps a leisurely morning stroll through the village, pack your belongings because we'll be taking the next bus to Kanazawa (金沢).
Many like to call Kanazawa a smaller and more compact version of Kyoto, and once you come here for yourself, it's not hard to see why. With a good pair of walking shoes, you could embrace tranquility in the beautiful garden of Kenrokuen (兼六園), feast on the bounty of the sea in Omicho Market (近江町市場), or have a sip of afternoon matcha with the geisha in the teahouse district of Higashi Chaya (東茶屋街 Higashi Chayagai)—all in a single day without the need for any other form of transport!

Day 5: Fukui/Osaka
Recharge your batteries with a stroll by the magnificent seaside, before a delectable seafood lunch in the nearby shopping street. (Image credit: ©JNTO & Niradj)
For our last day of validity for our rail pass, we'll be making a sightseeing stop in Fukui Prefecture (福井県 Fukui-ken) on our way to Osaka Station. Take the Limited Express Thunderbird from Kanazawa Station (金沢駅 Kanazawa-eki) to Awara Onsen Station ​​(芦原温泉駅 Awaraonsen-eki), from where we'll be boarding a bus headed for Tojinbo Cliffs (東尋坊 Tōjinbō). The one way, 40-minute ride on the Keifuku Bus Tojinbo Line costs ¥790 and is not covered by the Takayama-Hokuriku Area Tourist Pass.
While widely known in Japan as the Dinosaur Kingdom, Fukui Prefecture is also home to another famous prehistoric landmark, albeit of a more geological nature than dinosaur fossils. The Tojinbo Cliffs is a 1km long stretch of rugged basalt cliffs along the coast of Fukui Prefecture, forged over millions of years of volcanic activity and sea erosion. The sheer rock cliffs and hexagonal formations of Tojinbo and the salty breeze of the sea will certainly make for an iconic afternoon stroll to cap off our 5-day historical journey. Once you've had enough of the oceanside, you can head on back to Tojinbo Shopping Street directly next to the rocks to partake in local seafood delicacies and souvenir-shopping.
How much do you save?
Information based on Hyperdia.
Total cost: ¥25,150
- Takayama-Hokuriku Area Tourist Pass (5-Day) price: ¥14,260
= Savings: ¥10,890!
As you can see above, you can potentially save on nearly the full cost amount of the Takayama-Hokuriku Area Tourist Pass when using it on your travels throughout the region! The rail pass' coverage area is perfect for exploration if you'd like to dip your toes into the pool of adventure ever so slightly, and go on a holiday just outside of your comfort zone. The Takayama-Hokuriku Area Pass is available for purchase online.
JAPAN RAIL CAFE
Address: 5 Wallich St, #01-20, Singapore 078883
Opening hours: 11am–8pm (daily)
Header image credit: JR Times
Related Articles